Paned Expressions Patterns
BUY Full Sized Stained Glass Patterns on CDs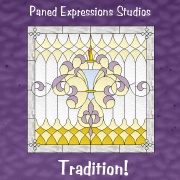 Full Size Stained Glass Patterns on CD – print them on both PC and MacIntosh computers!Over 2000 full size glass art patterns in 23 fantastic collections (.jpg, .tif, & .eye formats) for easy resizing and coloring.
Visit our Pattern Catalogue to see a huge selection of the marvelous glass patterns available in these collections. Collect them all!
Read the stained glass pattern CD FAQ (frequently asked questions). Everything you wanted to know about using our Pattern CDs!
Custom Designed Stained Glass Patterns
Do you need a stained glass pattern of a favorite photo, sketch, or idea?We can make nearly any concept into a stained glass or etch/multi-level carve design pattern.
Just fill out our custom pattern quote request and we'll let you know what's involved.
Visit our Custom Pattern Service page to find out in detail how Paned Expressions will support you in creating the exact piece you've been dreaming of.
Purchase Individual Patterns in Your Favorite Formats
New to our website, we are now offering special individual patterns for sale in three common formats (EYE, JPG, PDF).We will be adding new patterns frequently, so please come back to check out this new feature often.
Monthly Pattern – Free Download
Download this month's FREE Stained Glass PatternSign up for our free pattern email notice.